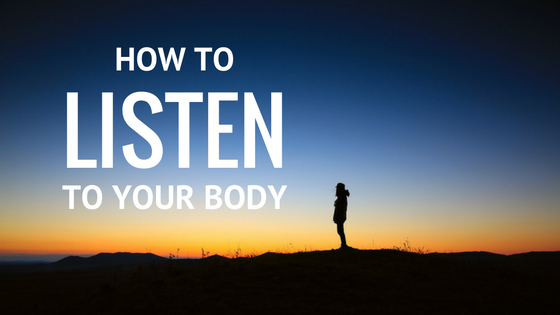 Listening to your body in an art. I remember years ago when I first heard this I was saying to myself "how do you do that? My awareness levels were on the precipice of a new dawn of awakening, I felt I was beginning an inner journey of self discovery, health and healing and I was waking up to something better emotionally, physically and spiritually.
The journey of being receptive to my own body's messages could first be narrowed down to answering this question how am I feeling? Ask yourself that right now? Any aches or pains? – what's happening in your body? Feel good? Feel restless, irritated, tired or overwhelmed? Do you know?
Today's blog comes to your from someone who's taken the journey of not knowing to someone who really knows. However, I didn't even know how to decipher these emotions until I first learned how to quiet my mind.
My mind is a very active mind. And being so active it used to run away with itself from time to time. I felt blessed to have been shown a practice that helped me to focus and be in tune with my body. Some people already know the messages their body sends, but I am a learner and had to learn this before I could master it. If you are a learner then this is definitely for you!
A series of things began to happen after asking a few personal questions; ones I wanted answers to. Answers came, albeit in a different fashion to what I thought. This was the introduction to meditation, something that has ended up making a profound difference in my daily life.
I knew very little about meditation 13 years ago. I thought it was something that Buddhist monks did and that was about it. I had never done it or thought about it and I didn't know anyone who practiced it. However, one day the signs began to flow. They came across my screen of consciousness via a National Geographic TV show. I remember a guy sitting on a chair keeping his back straight wearing an airplane mask to cover his eyes from any distraction. The narrator spoke of the massive physical benefits that just 20 minutes a day of quieting the mind had on the human brain scientifically. I also read about incorporating it into your daily life in Deepak Chopra's amazing book "Perfect Health." This was so inspiring to me. Then finally the third message came via a chance encounter with an Indian man in a shop who said, "take this flyer this is the real deal a meditation class." So now I was curious.
I did the class, signed up for the weekend special and was introduced to Transcendental Meditation or TM. I was given a private mantra (just for me) to repeat silently to myself when thoughts arose. That was it, simple, just repeat the mantra when thoughts arise for your 2 meditations a day. I was told to keep it a secret as it was sacred just to me. Within 2 weeks my teacher Colin asked me to call him back just to check in. When we spoke he said "has anything happened in the last 2 weeks"? I said, "no nothing." Then he asked, "meditation is not about attaining anything or getting anywhere it's just about quieting the mind." Then I thought and mentioned, "actually something has happened that's unusual, I woke up sweating and had to change the bed sheets 2 nights in a row." Colin replied, "that's fantastic that means you body is releasing toxins!"
And that was my first understanding of listening to my body's messages. Now if I feel a slight twinge after a workout I take it easy to maintain balance. When I feel restless I workout. When I'm eating good foods I feel healthy and clear-headed. I've noticed that my body sweats a lot when I eat rich foods especially in my sleep. When I feel aches the next day I tend to slow my workouts right down and go for brisk walks instead to maintain a balance and I'll also do yoga to stretch. When I have plenty of energy I'll run, do weights, HIIT or sports or anything that will utilize my vitality.
Everyone is different but listening to your body's messages can be a life saver as it helps you to maintain a balance which is key to your quality of life.
Live well, Live inspired!