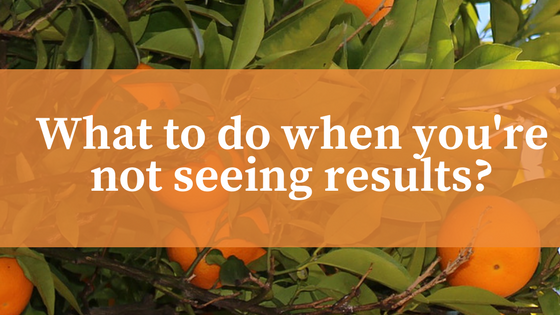 Ooo juicy topic for today's blog post. I have to say one of the most regular questions we are asked on the channel is "when will I see results?" But another question is, "I'm not seeing results – what should I do?"
What is the answer, is there some special secret that I can give you? At some point you have to take charge of your mind and own it.
Fitness, health and having a great body all require the right elements. These elements aside from exercise, good food, water and rest are having patience, faith and perseverance. Muscles work best when they are challenged; that is when growth is stimulated.
Results come when there is an alignment of thought, word and action. The other day a friend of mine said, "talk is cheap." A lot of us say we're going to do something and don't do it. I believe that when things really come together it's because you believe in yourself and what you're doing. If you say you're going to do 5 days of training this week – do it! Keep that sense of integrity flowing in your life.
Results or what we define as success, is really a snowball effect of feel good emotions we have nurtured over time. Success is the joy we have felt along the way so to speak. You can get from here to there, but if it wasn't fun, enjoyable and empowering along the way, then our results will feel flat and unsatisfying.
The solution is to chip away at your goals on a daily basis. Make sure it feels like you are empowering yourself every step of the way. Sometimes you may feel lost (like on a car journey) and you don't know where you are going, but as long as you keep moving towards where you want to go, focusing on the end result – you will get there. Just don't hang around in the mood of, "I'm not there yet," or you will stay there forever. Results come from not getting caught up on where you are, but focusing on the end result or your destination.
Stress or a lack of sleep can get us disillusioned with our goals and may feel like you're not seeing results. When that happens take some time for yourself to recharge, rejuvenate and rest. Remember tomorrow is another day and don't try to be a hero and power through as that can lead to accidents and set backs. Nurturing yourself well in those times by eating well, taking more naps and drinking heaps more water will lead you back into that good place.
Remember patience, faith and perseverance will get you to your goals and will help build firm foundations of character as well body strength. Sometimes it may feel like an eternity, but keep at it, keep moving forward, keep believing, keep chipping away at your goals, don't be so hard on yourself up and you'll get there!
Live well, Live inspired.
James